Are you looking for a concrete block machine that offers maximum reliability?
Then the Universal adapts perfectly to your needs;and, in addition, it becomes a high production concrete block machine. An automatic machine, which has a dosing system for water, cement and aggregates that evaluates the correct mixture of the components that make up the blocks using different methods in a completely autonomous way.
As we can read on our website:
It is the first of our high-production presses and requires only one person to control and supervise it. The entire production process is fully automated and managed by computer with personalised and easy-to-use software.
10-story elevator

The Universal block making machine has a 10-height elevator with a double tray that performs the vertical movement of the blocks and an automatic palletizer with a pallet warehouse and roller conveyor installed. But, in addition and as we mentioned before, it offers a maximum production per hour: manufacturing 1,500 blocks of 20*20*40. And it makes 1,600 trays in a working day of 8 hours. And it manages to create 10 cubic meters of concrete every 60 minutes.
Multiforce cart
For the transfer of products to the dryer, the Universal concrete block machine has a multi-fork carriage with different options:
Number of heights
Loading capacity,
Possibility of turning
etc.
For packaging, it has a double column electromechanical automatic palletizer. In short, a multitude of variables to customise the installation according to the needs of each project.
Other features that stand out in this block making machine is that it allows continuous oil bath lubrication, so its maintenance will be minimal. What will reduce the investment for this type of work remarkably.
A fundamental point for companies that are just starting out, or that have settled in underdeveloped countries. And we are talking about a type of block machines that offer large productions, without excessive maintenance costs.
It should also be noted that it has adjustable vibration parameters, a hydraulic group with a piston pump and variable flow rate and a power of 30 HP. Finally, we would like to add that the palletizer is automatic electronic, so it has an electromechanical operation.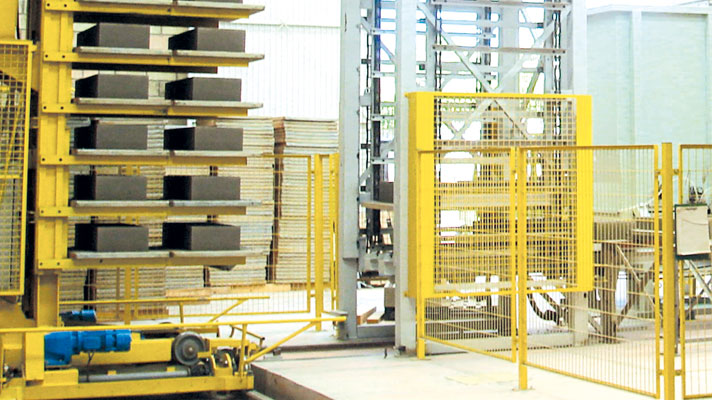 As we can read on our page:
As it is a completely automatic installation, a highly optimized factory is achieved, with low energy consumption and easy to operate and maintain. The synchronous vibration system of the block machines has proven to be extremely reliable and efficient, as well as being very easy to maintain. You can use variable size trays up to 1400mm. long and 900 mm. Wide.
Finally, we see some technical characteristics of this block making machine: